Nu You Natural Beauty Day Spa
Services & Pricing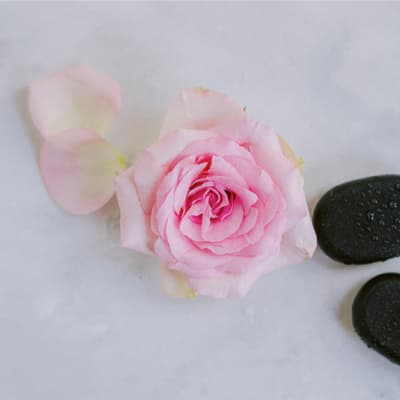 Spa Packages
All our luxurious spa packages include a welcome tray upon arrival, followed by a refreshment tray commencing your spa pamper package on our luxurious water front lounge.
SPA HEAVEN ~ 4.5hrs
$450
This complete journey of indulgence begins with a warm aromatic full body massage, followed by a rejuvenating full body sugar scrub, then indulge in a coconut milk and freshly picked rose petal bath, surrounded by the soft glow of candlelight and calming aromas of pure essential oils.
Dream away with a prime rejuvenating facial, including a face and eye collagen treatment to leave your skin luminous and revitalised. We finish with a luxury retreat pedicure and exotic hand ritual manicure on our waterfront balcony, whilst you sip on some bubbles and enjoy a light snack.
DRIFT AWAY ~ 3.5hrs
$350
Drift away into a heavenly full body massage infused with warm aromatic essential oils, followed by a replenishing facial, including a collagen eye and face treatment, leaving your skin radiant and rejuvenated.
We complete with a luxury retreat pedicure overlooking the Noosa river, whilst you enjoy a light snack and bubbles.
REJUVENATE ~ 2.5hrs
$299
Immerse yourself in an aromatic back/neck/shoulder massage to soothe and relax you. Rejuvenate and de stress further as we incorporate a replenishing facial and collagen eye treatment to leave you glowing and refreshed. We complete with a luxurious retreat pedicure overlooking the beautiful Noosa Marina.
BALANCE ~ 1.5hrs
$199
Start your spa journey with an aromatic upper body massage. Your skin is brought back to life with a refreshing facial and collagen eye rejuvenation. Complete your spa journey with a refreshing pedicure whilst watching the boats sail past.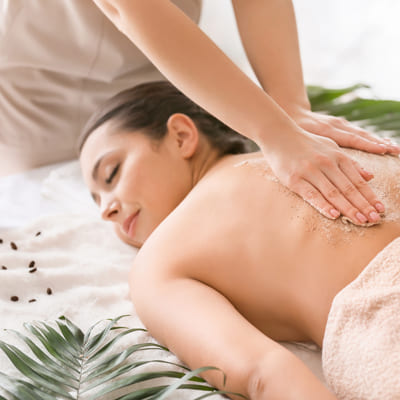 Body Rituals
Become a NuYou with our amazing body rituals, incorporating a sensory aromatic journey.
DAYDREAM RITUAL ~ 1.45hrs
$199
Drift into Dreamtime with an aromatherapy full body massage. Smooth and destress with an uplifting full body coconut sugar scrub, followed by our luxurious French bathing suite, where you'll be surrounded in a silky milk soak and freshly hand-picked roses.
PINA COLADA COCKTAIL ~ 1.45hrs
$179
Escape to paradise with this luxurious ritual of a back/neck/shoulder massage, followed by a full body coconut sugar scrub to reveal fresh and glowing skin. Step into our luxurious bathing suite of opulent coconut milk and freshly picked rose petals, followed by a hydrating facial, to leave you in a state of tropical heaven.
TROPICAL RITUAL ~ 1.45hrs
$169
This ultimate experience begins with a coconut sugar scrub, full body exfoliant to leave the skin renewed and refreshed. Enjoy the benefits of our detoxifying hydra sauna affusion shower, completing your ritual with a moisturising full body massage.
ESCAPE RITUAL ~ 60mins
$99
Escape yourself with an aromatic back/neck/shoulder massage of warmed essential oils of your choice. Refresh your senses with a full body coconut sugar scrub, followed by an affusion shower to leave you feeling refreshed and invigorated.
Aqua Therapy & Bathing Rituals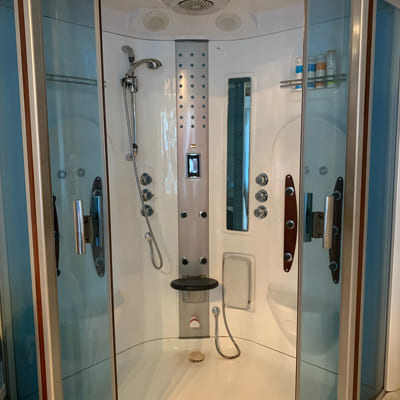 Aqua Therapy
Our steam room can boost the immune system, burn calories, loosen stiff joints, promote skin health and remove toxins from your body.
SAUNA STEAM ROOM ~ 20mins
$35
This unique personalised spa will leave you invigorated and refreshed.
Bathing Rituals
Step into our luxurious French bathing suite, offering a beautiful single or double bathing experience to eliminate emotional stress, physical ailments or purification with our 100% essential oils and natural hand-picked roses.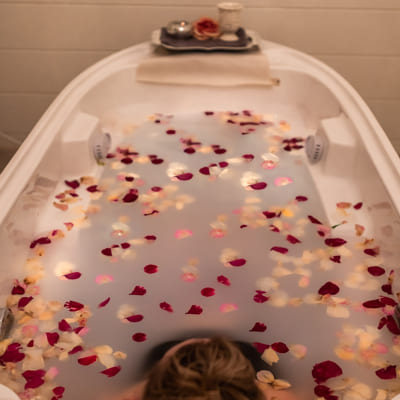 CLEOPATRA'S HYDRATION
Step into an opulent retreat of coconut milk and freshly picked rose petals. A beauty-boosting bath that hydrates, softens and tones the skin, utterly luxurious and exquisite.
DE-STRESS THERAPY
Relax and unwind with the perfect medley of geranium and lavender to leave you calm and balanced. Sooth and de-stress the mind while breathing new life back into the body, totally uplifting and rejuvenating.
MUSCLE RELAX RETREAT
Instantly feel your muscles start to loosen as you delight in the symphony of eucalyptus and kunzea. You will feel the benefits of deep relaxation, sooth your body and mind for total relief.
TRANQUILLITY DELIGHT
Experience the healing benefits of Turkish rose and rose geranium to promote a feeling of uplifting, healing and rejuvenation, helps relieve the hormone system and anxiety.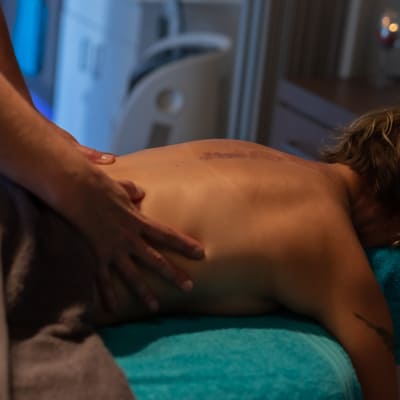 Massage
Indulge in a relaxing massage incorporating warm steam towels and pure extra virgin olive oil to release tension and relax the senses.
Aromatherapy Massage
Incorporating 100% pure essential oils to naturally enhance your treatment through topical and inhalation to stimulate a desired response with your choice of blends.
BACK NECK SHOULDER FLIP ~ 45mins
$99
BACK NECK SHOULDER ~ 30mins
$79
Relaxation Massage
A deeply relaxing massage to soothe and relax you, consisting of flowing strokes, kneading and gentle manipulation of the muscles performed at your chosen pressure.
BACK NECK SHOULDER FLIP ~ 45mins
$85
BACK NECK SHOULDER ~ 30mins
$65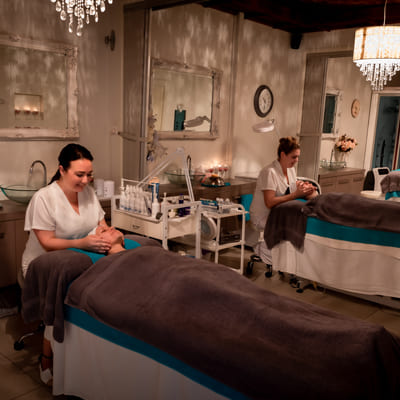 Natural Facials
An excellent treatment for all skin types. All our facials incorporate our specialised treatment mask to address your skin concerns whilst enjoying tranquillity and relaxation.
SIGNATURE REJUVENATION ~ 75mins
$169
Customised to work with your skin priorities. This is a signature facial that includes a double cleanse, exfoliant, face, décolletage, arm and hand massage, finishing with our deluxe trio system.
REPLENISH ~ 60mins
$139
Your therapist will concentrate on your skin concerns, including face, décolletage, hand and arm massage, performance treatment mask to restore your skin within, followed by our trio moisturisation system.
REFRESH ~ 45mins
$110
The classic facial will give your skin a boost with a face and décolletage massage, including a collagen treatment mask, finishing with our trio moisturising system.
EXPRESS ~ 30mins
$79
For clients with limited time, this is a great pick me up to address your skin concerns.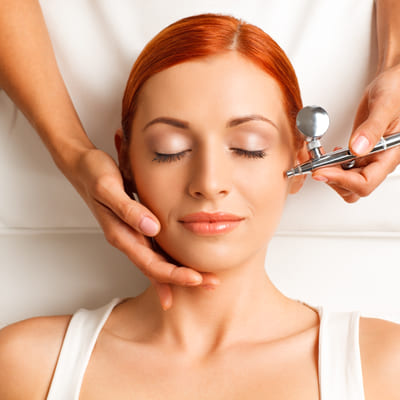 Specialised Treatments
Oxygen Facials

L.E.D. (Light Omitting Diode) Therapy

Microdermabrasion
Oxygen Facials
Using our "Intraceutical" Hyperbaric Oxygen machine to infuse active DNA serums, rich vitamins and powerful anti-oxidants deep into the dermis.
SIGNATURE OXYGEN ~ 60mins
$149
This deluxe treatment includes a double cleanse, exfoliant, infusion of specified professional serums to address your skin type, Oxygen therapy, finishing with our trio moisturisation system.
EXPRESS OXYGEN ~ 30mins
$99
Our Express treatment involves a double cleanse, exfoliant, Oxygen therapy, trio moisture.
LED Therapy
Highly efficient, non-evasive light therapy to stimulate collagen and elastin. Smooth inflammation, reduce scaring, anti-bacterial to improve acne and polish skin tone to help reduce pigmentation.
SPECIALISED FACIAL & LED ~ 30mins
$129
EXPRESS LED ONLY ~ 20mins
$79
Microdermabrasion
Our medical grade, crystal micro treatment, gently blasts organic oxide crystals onto the outer surface of the skin to break away dead surface skin and promotes new skin rejuvenation. Non-invasive, non-chemical, no down time, intense & safe exfoliation with instant results.
SIGNATURE MICRO ~ 60mins
$145
This treatment includes a double cleanse, micro and hydrating mask.
EXPRESS ~ 30mins
$79
Double cleanse, micro and hydration mask.
Lash Lifts & Extensions / Eyebrow & Lash Treatments
Lash Lifts
At NuYou we choose to use StudioLash as our supplier for all our lash requirements. Naturally longer looking lashes, lasting up to 12 weeks, includes lash tint of your colour preference and collagen eye pads.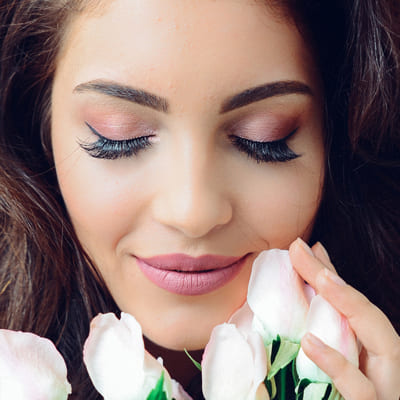 Lash Extensions
Refills to full sets – We are very proud to say that we endorse BeauteLab for our vegan and cruelty free volume lash extensions that are made from PBT, which is a type of polyester, similar to what is used in toothbrushes. We cater for all individual styles and budgets.
Eyebrow & Lash Treatments
Brow Re-Do inc. Tinting
$59
Brow Shape, Tint & Lash Tint
$59
Spray Tanning
At NuYou, we only use Three Warriors Tan, which is a wash and wear after two hours. This is a moisturising, natural, certified organic, toxic free, custom colouring solution from The Tasman.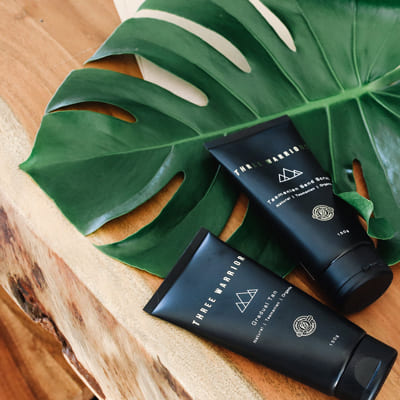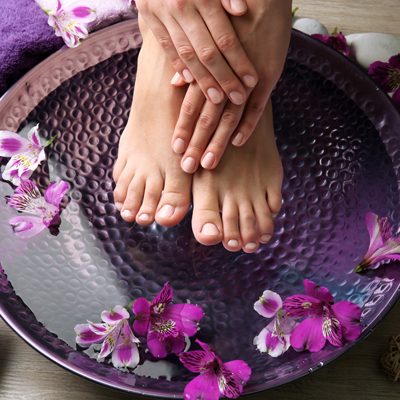 Feet & Hand Rituals
Retreat Pedicure
Express Pedicure
Exotic Hand Ritual
Detox Ion Foot Spa
RETREAT PEDICURE ~ 60mins
$89
The ultimate foot ritual. Luxurious and exotic sole replenishment, incorporating an aromatic exfoliation and soothing massage. Hard skin is removed, cuticles are groomed, nails are filed and finished with an application of polish.
EXPRESS PEDICURE ~ 30mins
$59
Soak, cuticle work, file and polish.
EXOTIC HAND RITUAL ~ 30mins
$59
Pure pampering for your hands and nails to restore beauty and suppleness. Hands are nourished with exotic lotion, cuticles are groomed and completed with tidy & polish.
DETOX ION FOOT SPA ~ 30mins
$35
An all-natural, non-invasive way to detox the inside of your body through your feet, whilst enjoying the tranquil water views from our balcony.
Couples / Petites Packages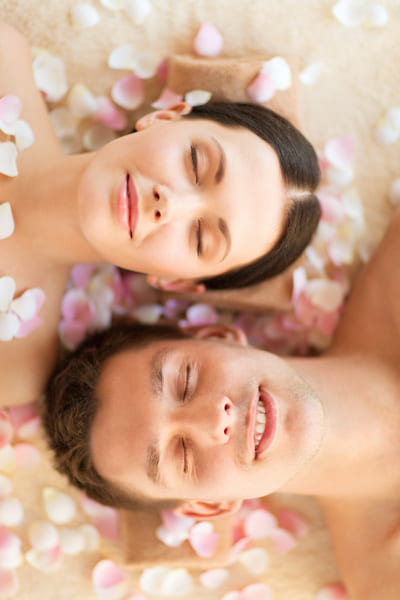 Couples Indulgence Packages
COUPLES DELIGHT ~ 2hrs
$350/couple
An exquisite spa ritual featuring the natural beauty and healing properties of freshly hand-picked rose petals and organic essential oils. Relax the body and mind with a full body aromatherapy massage, followed by a full body exfoliant of our coconut sugar rub to leave your skin perfectly smooth. Step into your French bathing suit and indulge in an opulent coconut milk soak, surrounded by fresh rose petals, whilst enjoying a glass of bubbles.
COUPLES RETREAT ~ 1.25hrs
$299/couple
Indulge in our couples retreat with an aromatic upper body massage, including our foot and leg retreat. Complete your spa experience with an affusion shower and sauna.
Parents & Petites Packages
At NuYou Natural Beauty Day Spa we not only pamper adults, we have some exclusive "Parents and Petites" packages available to suit those special occasions as well. (subject to availability):
These packages are available to any adult attending with a child under 12 years of age, wanting to spend some quality one on one time together. Be it a birthday celebration, Mother's, Father's or Grandparent's Day, Easter, Christmas or just because … we can make the moment special for both of you.
YOUR CHOICE OF:
Mini Pedicure  |  Mini Manicure  |  Mini Facial  |  Mini Hydro Bath Soak
YOU CHOOSE:
1 Treatment = $59/pp  |  2 Treatments = $99/pp  |  3 Treatments = $139/pp  |  4 Treatments = $169/pp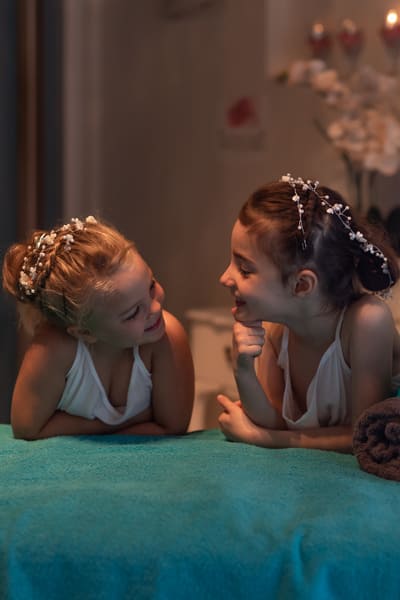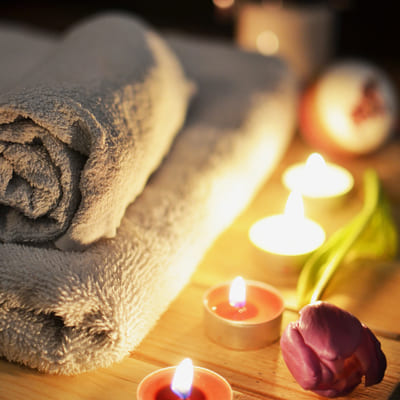 Weddings / Group Bookings
At NuYou Natural Beauty Day Spa on the beautiful Noosa Marina, we welcome groups celebrating a range of occasions. Our interconnecting rooms allow your Spa group guests to experience the comfort of pampering whilst enjoying each other's company.
Choose from our extensive treatment packages, how you would like to be pampered, by making your experience your own.
For all group bookings we require a minimum spend of $150/pp based on 3 or more guests to experience the following benefits:
Pamper package of your choice
Glass of Bubbles
Light refreshments
Social time in robes & slippers
Tranquil balcony waterfront views
A closed spa – just for you & your guests
A complimentary gift bag for the bride / birthday person
For cancellations or adjustments to your group bookings, a minimum of 48hrs notice is required to avoid loss of payments or fees.






Nu You Natural Beauty Day Spa
Be Transformed to a NuYou